So this weekend I've decided to start painting my cryx force. There is a journeyman league starting up at Bridgetown Hobbies next month that I'd really like to get into. Which means at this point, it is cleaning the models up and priming.
The starter set models I have are older, metal models, so that makes cleanup a whole lot safer. I'm using Krudd Kutter, which by the way is typically safe for plastics as well. You just dip the models in for 24hours, and then brush away the paint. I've used it before on cleaning up some tanks for Flames of War. It also removes any white glue (typically used on bases).
As to the color scheme I'm going for, it will be a bit unusual. I'm going to go for a sort of Fall, Halloween look for the models. That means a flat orange for main color, a greenish brass for metals, and then purple for the witchlight. Any sort of other minor color will most likely be in greys, possibly black, but I prefer lighter colors so that shading is visible.
Pretty excited about this. I know that orange is not a typical color for Cryx, but I did see a few examples on the web and they looked fairly good to me. I happen to have quite a few Defiler jacks in my collection, so one of those will get to be the crash test dummy. I'm hoping it turns out well.
The one model I am probably most concerned with is the Deneghra. How exactly will orange look on her, and how far do I take it. Now I have the old metal version of her.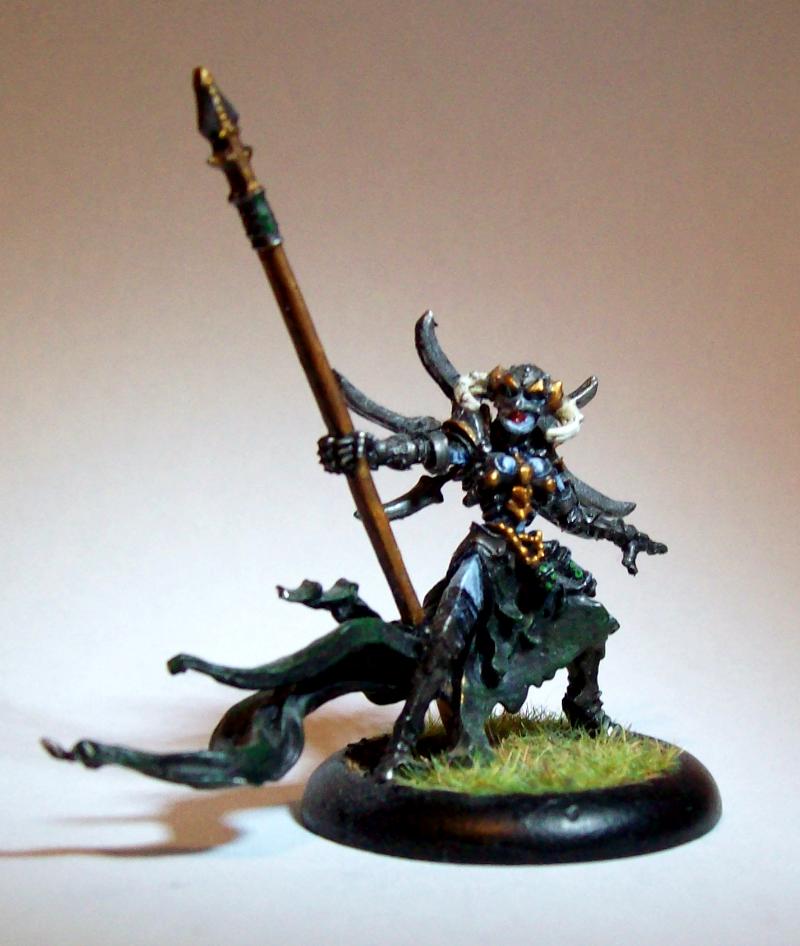 Fairly decent amount of armor, but also plenty of cloth as well. So perhaps I keep the armor as orange like the jacks, highlighted with the brass. That leaves a fairly important cloth color to be decided. That might end up as grey as it will allow decent shading and won't contrast too much with the rest. Have to see how it goes.